Kingsport, Bristol, and Johnson City TN
Water intrusion occurs in basements and crawlspaces because of a variety of problems. A common solution is to have a sump pump professionally installed. At Energy Savers, we only install the best quality sump pumps that are designed to handle power outages and provide homeowners with peace of mind. Sump pumps are designed to remove water and prevent costly repairs and damage to your home. Find out why sump pumps are the right choice for your home's moisture needs.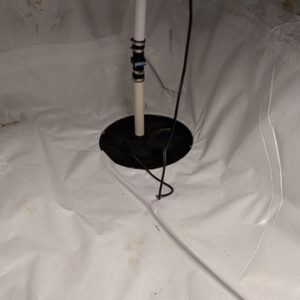 What is a sump pump?
Sump pumps are designed to remove (or pump out) water that accumulates in your basement or crawlspace. They function when underwater, and, when a battery backup is installed, will continue pumping water out even when there is a power outage. The sump pump is installed at a central location in the basement or crawlspace so that it continuously removes water to the outside to prevent water damage or flooding to your home.
When do I need a sump pump?
Water runoff, improper drainage on your property, foundational drain problems, or water in your home may be a sign that you need a sump pump installed in your basement or crawlspace. If water seeps through your foundation or into your basement, it could flood or accumulate enough water to cause structural problems or damage to your belongings. Overtime, ignoring the problem could lead to unhealthy air in your home, and compromise your home's integrity.
How does a sump pump work?
The pump comes equipped with a float switch that has a sensor on it. Once water reaches a specific level, the sump pump kicks on and begins pumping water to the outside. Our sump pumps can function when fully submersed in water. As the pump removes the water, it may go outside into a drainage line leading to another area of your property.
Do sump pumps fail?
Sump pumps are designed to prevent significant repair costs and damage caused by water intrusion to your crawlspace or basement. However, if not properly maintained, sump pumps might fail. This is one of the reasons why a backup sump pump often is recommended for homeowners. Energy Savers also recommends routine maintenance and repairs as necessary so that your sump pump remains fully effective.
Here are common reasons why a sump pump might fail:
Faulty float switch– The sump pump should be tested regularly to identify faulty float switch
Power outages– A battery backup is necessary to prevent this problem
Becomes clogged– Routine maintenance and cleaning are necessary to prevent clogs
Sump Pump Services in Kingsport, Bristol, and Johnson City
Energy Savers provides complete service and maintenance to all of our professionally installed sump pumps. If you would like to schedule maintenance for your basement's sump pump in Kingsport, contact Energy Savers today.
Sump Pump Installation in Kingsport, Johnson City, and Bristol
Energy Savers is one of the Tri-Cities' top-rated sump pump installer. We also offer backup sump pumps so that you can rest at ease knowing that if your initial sump pump goes out or has a problem, the backup will kick on and prevent flooding inside your basement or crawlspace.
If you would like to learn more about sump pumps or find out if you need a sump pump installed in Kingsport or Johnson City, contact Energy Savers today by calling 423-292-8279. Our certified sump pump installers in the Tri-Cities are waiting to help you!