Kingsport, Bristol, and Johnson City
A major concern with crawlspace moisture is that it can affect your home's structural integrity and pose significant health concerns for anyone living inside your home. This is not good news for homeowners! Thankfully, Energy Savers is your trusted source for crawlspace encapsulation to fix moisture problems underneath your home. We provide free crawlspace inspections, and no-obligation estimates to provide you with an idea of how much it will cost to protect your largest asset against moisture damage. Energy Savers provides services to the Tri-Cities, including Kingsport, Johnson City, and Bristol.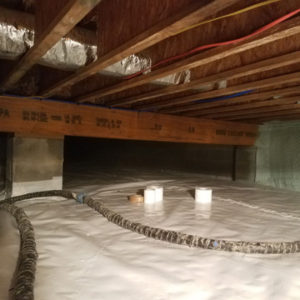 Symptoms of Crawlspace Problems
If you are like most homeowners, you probably never visit your crawlspace. It's dark, dank, and there might even be some unwanted critters or pests living there! But it is necessary to take a peek at your crawlspace from time to time to identify potential problems before they escalate. There are, however, signs that may indicate an issue with your crawlspace.
Home interior signs include:
Uneven flooring
Cracks in the walls
Foul odor in your home
Condensation around your air registers
Increased energy bills
High humidity inside your home
Chronic allergies, asthma that worsen while at home
If you are up for the challenge, look at your crawlspace for the following issues that may indicate problems:
Mold or moisture damage
Condensation on your plumbing
Wet or soggy insulation
Water puddles on the ground
Rotten or damaged wood
Evidence of insects or pests
Hanging or fallen insulation
When to get crawlspace encapsulation
If any of the following apply to your home, you may benefit from a crawlspace encapsulation system installed by the professionals at Energy Savers.
Crawlspace Vents and Dirt Floor – Vented, dirt-floor crawlspaces are allowable by building codes, although they often are known to cause moisture and mold problems. If your crawlspace only meets codes, yet you still have moisture issues, an encapsulation system may be right for your home.
Allergies or Asthma – Damp crawlspace air seeps into your home and could exacerbate allergies or asthma due to airborne mold spores and dust mites. Crawlspace encapsulation ensures that the air from under your house is clean and safe to breathe.
Fiberglass Insulation in Crawlspace – Fiberglass insulation is not the right choice to insulate a crawlspace. It absorbs moisture, causes mold growth, leads to wood rot, falls down, and loses R-value. However, crawlspace encapsulation not only provides a moisture barrier, but helps insulate as well.
The Solution
Crawlspace encapsulation is ideal if you want to seal out moisture and turn a damp, dirty, moist crawlspace into a clean, dry space that inhibits mold growth. Energy Savers has pioneered crawlspace encapsulation for homeowners in the Tri-Cities, preserving your asset instead of it turning into a liability! If you would like to learn more about our crawlspace encapsulation products or services, please contact us today.
How much is a crawlspace encapsulation system?
Prices vary for crawlspace encapsulation, depending on these factors:
Scope of the project
Materials used
Prep work needed
The good news is that Energy Savers offers on-site estimates at no cost to you. Find out how much crawlspace encapsulation costs in Kingsport by contacting us today. Our services are available to homeowners in Kingsport, Johnson City, and Bristol. Protect your investment and your health by installing a professional-grade crawlspace encapsulation system by Energy Savers. Get a free quote by calling 423-292-8279 today!