Kingsport, Bristol, and Johnson City TN
As a homeowner, you are responsible for any and all repairs. This could be frightening for many. One of the most significant repairs could be your home's foundation. But, without it, your home's structural integrity may be at risk. Foundation problems often can be avoided with proper maintenance. It is crucial to identify potential foundation issues when they first appear, rather than wait until extensive damage has occurred. Obvious signs of foundation problems may include sagging floors or cracks in the walls. But, the absence of these signs doesn't mean there aren't any underlying problems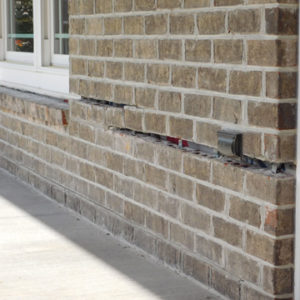 How to identify foundation problems in your home
Test Doors and Windows
As the air pressure and humidity change, it is normal for doors and windows to slightly stick or become challenging to open or close. However, if a door or window is unable to close or open completely, this could signify that the frame has changed shape, an inevitable consequence of foundational issues.
Check for Sagging Floors or Ceilings
Warped floors and ceilings could point to a foundation problem. As the foundation is compromised, it may shift, causing floors or ceilings to sag. A prominent sign of foundational issues is a floor that slants. If you notice a floor in your home becomes uneven or unusually slants, contact a professional.
Check Musty Smells in Basement
Basements are below grade, but that does not mean it is ok for them to smell musty or like mildew. Check out your basement and crawlspace occasionally, and look for signs of a musty odor. Water could be leaking in through the walls or the floor, which could pose significant threats to your foundation. Plus, the air in this part of your home does reach the interior living areas, which could equate to a health risk for anyone living inside.
Inspect for Mold
If the smell alone doesn't give it away, visually inspect your crawlspace or basement for signs of mold. Also, look around the interior of your home, paying special attention to the walls, corners of the rooms, baseboards, and flooring. Mold growth is a sign of a problem with moisture in your basement or crawlspace.
Look for Gaps Between Windows and Walls
Check the interior and exterior of your home and visually inspect around the window frames. Any noticeable cracks could indicate a foundational problem. Plus, rainwater could intrude through these cracks, creating another issue.
Examine Walls
Bowed out walls on the interior of your home could indicate that the frame has shifted or is settling, a telltale sign of a foundation problem. Also, check for any nails popping out of the walls, and for any cracks.
Foundation Repair in Kingsport, Johnson City, and Bristol
Protect your biggest asset – your home, by repairing the foundation when it is structurally compromised. If you notice any of these signs, please contact a professional. To learn more about foundation repair or find out how much it costs in Kingsport, contact Energy Savers by calling 423-292-8279 to schedule a no-obligation, free estimate today!