Kingsport, Bristol, and Johnson City TN
Energy Savers Spray Foam Insulation has become a premier provider in home and commercial insulation in Kingsport. As a locally owned business, our goal is to help save our customers money by properly sealing their home or business to prevent moisture and pollutants from entering. If you are in need of our services, please contact us today for a no-obligation, free estimate, and discuss your home protection needs.
Energy Savers Spray Foam Insulation offers the following services: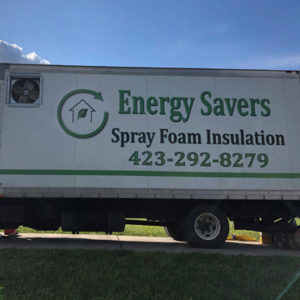 Crawlspace encapsulation
Sump pumps
Foundation repair
Spray foam insulation
Crawlspace Encapsulation
Crawlspaces are known for being dank and smelly, often a sign of a moisture or mold problem. To combat this issue, we offer crawlspace encapsulation that prevents water intrusion and protects against mold growth. This could be one of the most significant investments in your home and your health.  Crawlspace encapsulation is ideal if you experience moisture or water in your crawlspace, and want to create a moisture barrier between the ground's natural moisture and your home. Crawlspace encapsulations help improve the air quality within your home by reducing allergens and pollutants, like mold and mildew, which also may alleviate certain respiratory illnesses.
Sump Pumps
If water seeps into your basement, causing a moisture and mold problem, you might benefit from a sump pump. A sump pump operates even if it is underwater as it automatically begins working when it senses water and pumps it to the outside either into a drain or a line leading to a predetermined area of your property. This investment helps prevent a flood in your basement and is ideal if you have drainage issues or a poor grade on your property. We offer a variety of different sump pumps, and some come equipped with a battery backup, which is helpful in case you ever lose power. We also provide maintenance services routinely to ensure your sump pump runs smoothly from season to season. Having a problem with one of your sump pumps? Our technicians can troubleshoot sump pump issues in Kingsport and provide a solution to the problem.
Foundation Repair
Your home's foundation is the cornerstone of your entire house. If it is compromised, then you could have a serious situation on your hands.
From even concrete to cracks in the walls, our foundation repair services can stabilize your home, giving you peace of mind and reinforcing your home's structural integrity. From wall braces, wall jacks, and reinforcements, we can restore your home's foundation for the peace of mind that you deserve.
Spray Foam Insulation
Insulating your home or commercial space is an ideal way to help maintain a comfortable temperature inside year-round, and reduce energy costs. However, not all insulation is constructed of the same quality. Nor does all insulation provide the same results. For years, traditional fiberglass insulation has been the go-to for insulating attics, crawlspaces, and walls of homes and buildings. It is affordable and gets the job done. But your home is an investment. Do you really want to install products that are just ok?
Spray foam insulation is available in open cell and closed cell form. While there are pros and cons of each, the best option will be the one that suits your insulation needs. Our insulation experts are happy to provide you with a no-obligation, free estimate, and help you determine which option is right for you. Spray foam insulation is a superior method of insulating your home. From improved air quality to noise reduction and energy savings, spray foam is the right choice for many home and business owners.
Spray Foam Insulation and Foundation Repair in Kingsport, Johnson City, and Bristol
Energy Savers Spray Foam Insulation is a top-rated company in the Tri-Cities to offer spray foam for residential and commercial applications. We work with existing homeowners, should you want to upgrade your home's insulation, or with building contractors. Our technicians are dedicated to providing world-class customer service so that our results will exceed your expectations. Contact us today for a free estimate! You can visit us online to schedule a consultation.